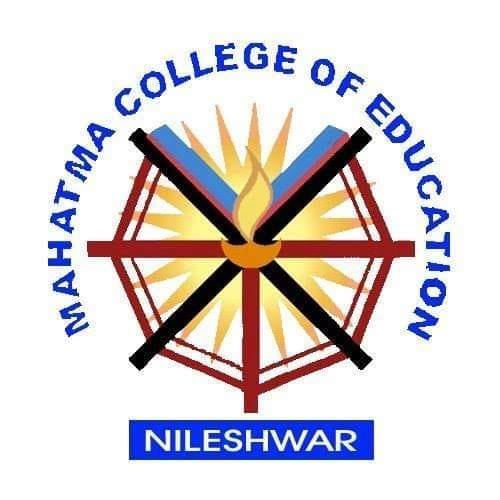 Mahatma College of Education Nileshwar, Kasaragod, Kerala
Gandhi Nagar Campus, Pandikodu, Puthariyadukkam P.O., Kasaragod Dist., Nileshwar, Kerala 671314
Nileshwar is a small town of North Malabar and has an important place in the historical map of Kerala. It was the seat of Nileshwar Raja of the "Allada Swaroopam" dynasty, who ruled the area from Bekal to Olavara, near Payyannur. This place has a rich heritage as a cultural and educational center. As a land of temples and festivals Nileshwar is an abode of folklore and performing arts like Theyyam and Poorakkali. Nileshwar being a cynosure of aesthetic minds is known as the cultural capital of Kasaragod District.
Gandhi Nagar Campus, Pandikodu Puthariyadukkam P.O. Nileshwar Kasaragod - 671314 Kerala, India
Facilities
Library
The College library houses more than 3200 books, most of which are on education and allied subjects. We are proud to have a good number of collections of books of authors of national and international repute. We have provided a good stock of educational encyclopedias yearbooks and reference books. The Library is well stacked, scientifically cataloged, and codified for its quick disposal to the students. The spacious library hall is well furnished where students can refer to books of their choice. A spacious Reading Room is attached to the Library which can accommodate more than fifty students at a time for reading and writing. All the housekeeping activities are carried out by experienced and trained staff. More than 20 journals and magazines in English and Malayalam on education and related discipline are made available in the library, which is displayed prominently. Another uniqueness is the information facilities through Internet access and CD ROM Facilities, where students can download the study materials according to their requirements and choice. The Library is also provided with photocopying facilities for the purpose of copying materials from books and journals.
Sports
The College Facilities for indoor and outdoor games and sports are equipped in this center.
Cafeteria
The college has a canteen facility for staff and students.
Auditorium
The College's multi-purpose hall is well arranged which can accommodate around 200 students. The hall is provided with audio facilities and options to provide OHP and LCD facilities to make the teaching and learning very effective.
Medical/Hospital
The college has a health center with a first aid facility for the students.
IT Infrastructure
The College ICT Resource Centre is provided with 15 computers having internet connectivity. All the computers are connected through a LAN. Most of the systems are having high-end configurations which are supported by multimedia software and other advanced software required for teacher education. Separate Audio/Video facilities, Interactive screen, LCD Projector, Over Head Projector TV, Digital camera are some of the notable facilities provided in this center for students to explore various aspects of educational subjects as part of their curriculum.
Laboratories
The college has a departmental based laboratory facility for the students.
Parking Facility
The college has a parking space facility for its faculty, staff, and students.