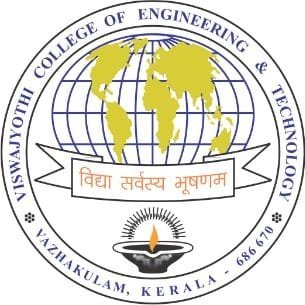 Viswajyothi College Of Engineering and Technology
Viswajyothi College of Engineering & Technology Vazhakulam, Muvattupuzha, Ernakulam,Kerala, India
Established in the year 2001, as a self-financing Engineering College, approved by AICTE and affiliated to APJ Abdul Kalam Technological University (KTU), VISWAJYOTHI College of Engineering and Technology has grown manifold and has earned a reputation as a trendsetter in Engineering Education. The building complex of the College with an area of about 5 Lakh sq. ft. is situated in a sprawling campus of 26 acres, nestled among lush greenery over a hillock on the side of the Ernakulam – Thodupuzha State Highway. A highly committed Management Team with the noble vision of transforming VISWAJYOTHI College of Engineering and Technology into an International Center of Excellence in Engineering Education; a competent and dedicated Faculty; scientifically planned infrastructural facilities with state-of-the-art Laboratories, Workshops, and full-fledged teaching-learning setups along with excellent work culture and campus atmosphere have enabled VJCET to carve a niche for itself amongst the self-financing college in Kerala within a short span of time.
Muvattupuzha-Thodupuzha Road Vazhakulam, PO, Muvattupuzha, Kerala 686670
A pass in any bachelor's Degree Examination of MG University or an equivalent degree of any other university, duly recognized by KTU with not less than 50% marks in the aggregate for all parts of examination or a Master's Degree Examination with 50% marks in aggregate.
Valid KMAT / CMAT or CAT Score.
A pass in any Bachelor's Degree examination is needed for SC/ST candidates.
Facilities
Boys Hostel
The College provides excellent hostel facilities for students. Gent's hostel is located on the campus itself so it makes easy access between college and students. The hostels and hostel facilities are of high quality and well equipped. The boy's hostel can accommodate 250 boys. Members of the teaching staff are appointed as Resident Tutors in the hostel. The rooms provide the most modern facilities and privacy. The hostel system runs under the control of chief warden Rev.Fr. Thomas Kottaram and resident tutors. All the hostels have mess facilities for students. The mess is spacious, highly hygienic, and elegant. Internet and Computer Facilities are also available in the hostel. The college hostel is fully wi-fi enabled. The students can access the internet through this facility and it is available from 5 AM to 11 PM. The uninterrupted power supply is ensured using a 100KV Generator. Each student is provided with a cot, a table, and a chair in their respective rooms. Each room is provided with a ceiling fan.
Girls Hostel
The college has a computing facility in Ladies Hostels. Ladies hostel is a Wi-Fi area that is also controlled by the server room on the campus. In addition to WiFi in Ladies Hostel we do have separate computer labs there also they can do work.
Gym
The College has a Multi Gym with all the most modern equipment. Students and staff are using this facility to keep their health in good condition. Staff and students can utilize the Gym facility in the early morning and evening times.
Library
The College has established its Central Library in the year 2001. It is housed in an area of 16400 sq. ft. spread over two floors and caters to the information needs of the faculty, staff, and students. In addition, there is a separate library in the MBA department. The Central Library is fully automated with a rich collection of Books, National and International Journals, Technical and other Magazines, CD ROMs on Engineering, other widely appreciated editions on diverse subjects like Literature, Management, Religion, etc. so that the students can evolve into excellent professionals and good cultured human beings. The collection comprises 42501 printed documents such as books, project reports, Mini project reports, seminar reports, and back volumes of journals and non-book materials like CD ROMs. The Library follows an open access system. Books are arranged in Dewey Decimal Classification System. Book Magic software is used in the computerization of the library. Online Public Access Catalogue (OPAC) helps the students to easily access the books and other materials in the library within seconds. Web-based Online Public Access Catalogue (WEB OPAC- IP Based Access) system is also incorporated. All books are barcoded. A bar-coded Identity card is issued to all users. Hands-free Barcode readers for users are installed at the entrance for check-in and check-out. Surveillance cameras help to regulate the movement of the users in the library. The library also subscribes 128 printed journals, 16 general magazines and library subscribed full-text online databases like IEEE, ASCE, ASME, Springer, EBSCO, and E-resources through DELNET and National digital library. NPTEL facility (national program on technology-enhanced learning) to access video lectures also available. A well-arranged Digital Library with 60 Computers and 25 headphones helps the users to view e-facilities and use Audio/video facilities also. Digital Library can also be accessed anywhere on the campus. This library provides uncompromising information and intellectual requirements for its students and faculty with a user-friendly approach. It offers a fully integrated and dynamic environment for conducting an academic study. Multiple copies ensure that resources are easily available in the reference section and stock section as well. Membership of the library is open to students, Teachers, and Non-Teaching Staff of this college. Library membership is free to all faculty, staff, and students. It maintains a separate collection of books for Reference, General, Personality Development, Soft skills, Competitive Examinations, Engineering and Technology, Spiritual Books Bound Volumes of Journals, Reports, CD ROMs. Etc.,
Sports
The College is providing high-class facilities for Sports and Games. Every year Annual Sports is being conducted in the college. We are giving equal preference to sports and games along with academic activities. The College has a well-trained professional basketball team. Every year college is conducting all Kerala Basket Ball tournament "MAGNUM" in the mid of February. The College also won many titles in various basketball tournaments. The College is maintaining a Multi proposed stadium with a 200 Meter track as well as a Football and Cricket ground. Many football as well as cricket tournaments are held n this stadium. The college has 9 badmi